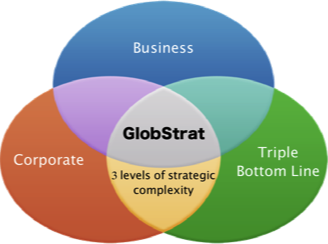 Strategic Business Simulations
Business, Corporate, Triple Bottom Line


CEO-Academy business games are strategic business simulations which are customizable to the professor's objectives, to students' level, and training setting. Akin to a flight simulator, these simulations allows participants to run a company in a realistic, yet risk-free virtual environment. Three levels of strategic complexity are available:

GlobStrat_Triple Bottom Line, integrates Sustainability and Social responsibility...for MBA.
GlobStrat_Corporate, perfect for a strategic management course (capstone type),
GlobStrat_Business, ideal for team building in a management training introduction.

Join the Fortune 500 firms and leading academic institutions already using GlobStrat and challenge yourself: Are You CEO-ready?

GlobStrat
is a strategic simulation that exposes participants to all major corporate functions: R&D, Manufacturing, Sales, Marketing, HR, Finance and Strategic Alliances.
Success requires sound theory, smart strategy and faultless implementation.
Learn more
▸
Dynamic Strategic Environment

GlobStrat
provides a dynamic business environment where participants are immersed into a virtual, yet very realistic business environment.
Direct competition makes for intelligent opposition and epic battles.
Learn more
▸
Triple Bottom Line Scorecard

The world moves fast.
Sustainability has become essential.
GlobStrat
is the
first-and-only simulation that teaches sustainable business strategy, integrating together the 3 pillars:
People, Planet, Profit.
Learn more
▸

GlobStrat's
simulation engine is built around state-of-the-art economic models.
All strategic arenas can be explored and implemented. With no pre-defined winning strategies,
GlobStrat
offers an ever-renewed experience.
Learn more
▸
Customize your Simulation

GlobStrat
has been designed to teach multiple levels. Whether MBA or undergraduate, seasoned or junior executives,
GlobStrat's
breadth and depth can be easily configured to match your needs.
Learn more
▸

GlobStrat
is the leading-edge strategic business game. It has been adopted by many renown academic institutions
(HEC-Paris, Dauphine University,
HEC-Montreal) and Fortune 500 firms.
Learn more
▸

GlobStrat
is entirely web-based, with zero installation. Through our training program, whether on-line or on-site, instructors are up-and-running in just a few hours.
Success guaranteed - No hassles!
Learn more
▸

We offer 24/7 on-line assistance through knowledge base,
help-desk and emails.
Instructors even have access to a dedicated hotline for urgent matters.
No matter what, we'll be here for you.
Learn more
▸