Leadership Development 3.0


Triple Bottom Line Leadership Development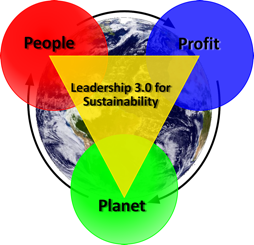 Creating 3.0 Leaders for the 21st Century

CEO Academy has selected Transitioning to Green as our exclusive North American partner to support our Globstrat simulation.

Transitioning to Green has designed an extraordinarily impactful five-day program which fully integrates, complements and enhances the GlobStrat online business simulation in a team based classroom setting. The program encompasses the breadth and depth of leadership capacities to enable companies to succeed in a triple bottom line world.

Transitioning to Green's Leadership Development 3.0 program focuses on transforming your future leaders into 3.0 leaders using a program that reflects and includes the kinds of rapid changes in technologies, relationships, variabilities, challenges and opportunities, models and procedures that support upcoming leadership in developing insights and skills in real-time. Practice runs support participants in crafting strategies, building relationships, bringing the best ideas, negotiating and renegotiating solutions, assessing opportunities and threats, creating new approaches, innovating, all at once, just as they must do when it counts.

The program utilizes real-time, blended learning for accelerating the development of leadership for sustainability, including presentations, interactive exercises for systems integration, and practice in triple bottom line leadership strategies via business simulations.

Transitioning to Green supports their clients in addressing all aspects of sustainability through solutions rooted in a holistic, systems-based perspective. By addressing the human side of sustainability including leadership development, talent management, employee engagement, high performance cultures and change management, organizations will reduce recruiting and attrition costs, and increase employee productivity and engagement.


For more information on TTG Services info@transitioningtogreen.com
www.transitioningtogreen.com